06 May

IP55 Outdoor Cabinet

We found out that there is no enough information about 19" IP55 Outdoor Cabinet and thus we will investigate it. If you are reading this article, then you are probably planning to make a procurement soon. So, let's dive in! We will try to give you an idea about what you need to care before you purchase it.

19" IP55 Outdoor Cabinet helps you to house your vital industrial telecoms CATV or CCTV equipment in semi-open application areas such as factories and warehouses where no direct water contact such as rain, snow or direct sun light. These enclosures can be made of Metal, Aluminum or Stainless Steel and usually include 19″ mounting profile with fans, heater and free standing plinth. Depends on manufacturer the construction of these cabinets generally can be fixed onto wall or pole as an external data cabinet providing IP55 protection against dust and water ingress as per EN60529 standard. A perfect choice to protect your sensitive network devices from harsh environment[1].
Optional Fan, air filters or air vents dramatically decrease the degree of IP rating of cabinet which may have up to IP67 ip rating without any hole, vent, filter. IP55 Outdoor Cabinet usually have sealed doors, locks and filters in order to avoid water penetration. As application area is usually semi-open area you need pay more attention to privacy of your sensitive network equipments against un-authorized people who may try to interfere with your equipment. Thus a protective locking system, usually 3 point locking system will be a perfect choice. Where the lock handle will have plastic coating against corrosion.
Filter and Fan System: IP55 outdoor cabinet has a fan and filter system which guards it against water and dust integration and circulates fresh air into the cabinet. The upper chassis of cabinet is equipped with 1 or 2 way fan including thermostat. The canopy roof hosts the fans.
Paint: Polyester type powder coating will ensure the long product life. These cabinets usually have air inlet and air outlets with filter and filter mesh.
Skin Options: To have additional protection against hot and cold whether conditions. Double Wall/Skin design protects the cabinet with the additional 4 plates -on every side of cabinet -rear, front, right and left sides- they must have insulation materials -Aluminum Foiled protection- for a complete protection. We strongly recommend Double Wall/Skin Cabinets for the countries where harsh environmental conditions is exist.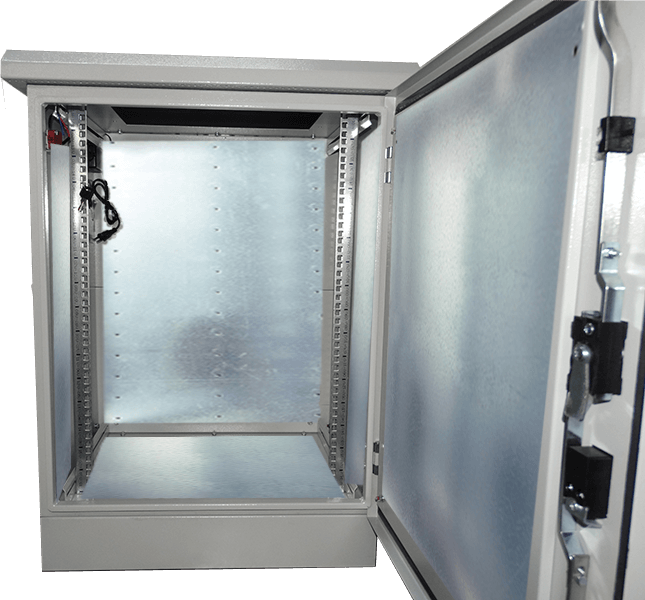 Main Dimensions:
7U,9U,12U,15U,19U, 20U, 25U and 30U
Depth: 450mm or 600mm
Width: 600m
Maintenance:
As all equipments need maintenance, IP55 Outdoor Cabinet need too. Filters and fans require periodic maintenance. However most of the people ignore or overlook this point during the purchasing process. Then they face serious issues with the maintenance and replacement of malfunctioning fans of cabinets. The best solution on that is an opening top panel. Opening top panel enable you to interfere with part need to be maintained and replaced within the time. In case there is not opening top integrated on to cabinet, you may need to remove all your equipments for the maintenance or part replacing. So it's always good to keep this detail in mind.
General Standards required
---
Mechanical Structures for Electronic Equipment, Cabinets: EN 61587-1 2012
Overall Cabinet Dimensions.: IEC 297-2
19'' mounting: IEC 297-1
IP54/55 protection : EN 60529
Mechanical Impact Resistance: IK10
Information technology equipment Safety – General Requirements: EN 60950-1:2006
Environment Friendly Standards
IP rating:
It is often confusing for an engineer to know what type of rating they need to look for when they desire to have a "waterproof" enclosure. Much like with watches or other sensitive information, there is a big difference between waterproof, water resistant, and other descriptive but not specific labels. To help out, there are several rating systems that have been developed although and several testing agencies that verify the results. Among these, the two best known are NEMA and IP.
For example, consider an IP65 rating:
The rating's first digit, e.g. IP6_, means that the enclosure is dust tight
The second digit, e.g IP_5, relates to the ingress protection against water
To watch a detailed video:
---
[1] Wet or dirty environments with water, high humidity/water vapour, dust or dirt can wreak havoc on electrical equipment, causing short circuits or malfunctioning equipment. If salinity is a factor, such as in a seaside environment, corrosion can also be a serious issue.
Electrical systems are also often sensitive to temperature extremes, which can cause components to fail or malfunction. For data connections, Electro-Magnetic Interference (EMI) can be an issue as it can disrupt wired communication.
[2] RoHS stands for Restriction of Hazardous Substances, and impacts the entire electronics industry and many electrical products as well. The original RoHS, also known as Directive 2002/95/EC, originated in the European Union in 2002 and restricts the use of six hazardous materials found in electrical and electronic products. All applicable products in the EU market since July 1, 2006 must pass RoHS compliance.
[3] REACH is a regulation of the European Union, adopted to improve the protection of human health and the environment from the risks that can be posed by chemicals, while enhancing the competitiveness of the EU chemicals industry. It also promotes alternative methods for the hazard assessment of substances in order to reduce the number of tests on animals.
[4] The Conformitè Europëenne (CE) Mark is defined as the European Union's (EU) mandatory conformity marking for regulating the goods sold within the European Economic Area (EEA) since 1985. The CE marking represents a manufacturer's declaration that products comply with the EU's New Approach Directives. These directives not only apply to products within the EU but also for products that are manufactured in or designed to be sold in the EEA. This makes the CE marking recognizable worldwide even to those unfamiliar with the EEA. Affixing a CE Mark to a product is considered a means to certify for authorities within the EU member states that the product meets all appropriate EU requirements.